Name: grell sutcliffe
Sex: male
Age: unknow
Clothes: depends on the ocasion, but normaly wears a suit but instead of a normal blazer he wears a red womans jacket hanging off his shoulders, and a pair of red high heels, he also wears red framed glasses with a skull beaded strap to help keep them from falling off to easily, though he will happily wear a dress if someone will let him
Race: shinigami
Alignment: Chaotic Neutral
Physical Description: Hair colour and length: blood red and mid thigh length(true form) dark brown and mid back length(human form), height:6'1", eye colour: gold(true form) green(human form)
(true form on the right , human form on the left)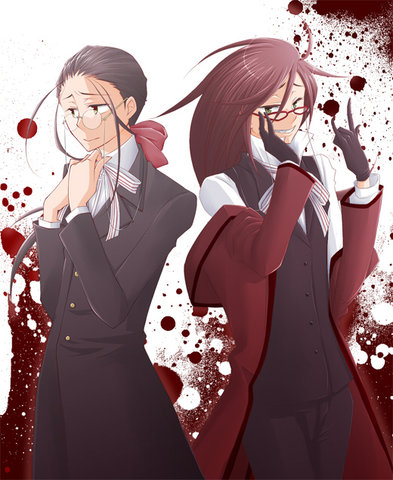 Organization: neutral
Rank: third rank reaper
Weapons: Grell's shinigami scythe is illegally modified to look and function like a chainsaw.
Abilities: When cutting someone with his Scythe, their past memories are played out like a video reel to be judged if they should live or die; this is referred to as "Phantasmagoria Theater".
Character Traits: flirty, abit insane, fruity. human form; clumsy, bashful
Bio: grell is a flamboyant, cross-dressing shinigami who works as Angelina Durless's butler. He is initially portrayed as worthless and is often seen trying to commit suicide after mishandling tasks.
As a shinigami, he is characterized with red hair and shark-like teeth. Grell often refers to himself as a female. He met Angelina while she was murdering a former patient. Although he was to remain neutral without killing for enjoyment, Grell and Angelina forged a partnership and continued the murders.
They were known as "Jack the Ripper" thereafter.
Desired personal rank:
Other:
i aprove myself X3